Charity for Pleasure
A general review of Mr. Lim Por-yen's donations to China, Hong Kong and Taiwan as from 1982
(picture: HK$'000 thousands)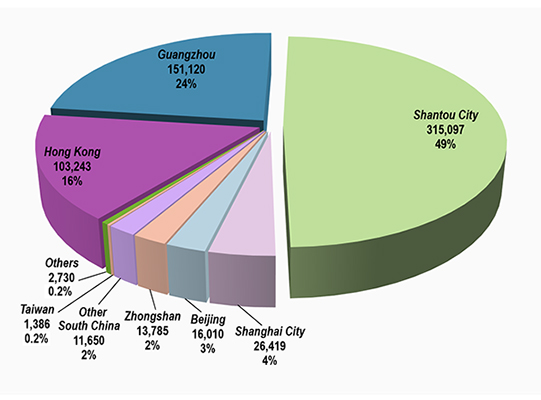 Enjoyed charity work by donating and never wanted to retire.
("The industrialist who loved China, Hong Kong and home." article written in memory of Mr. Lim Por-yen by Simen)

In the first half of 2003, in order to help in the fight against SARS, Mr. Lim donated HK$20 million to the Hong Kong University Research Foundation Fund and the "HKU - Lim Por-yen Academic Foundation Fund" was set up to promote the work and research activities of the "Jao Tsung-I Petite Ecole".
At the cheque-presentation ceremony, Lim Por-yen, who enjoyed doing things himself, gave the following talk: "I myself began living in Hong Kong when I was very young. In the past few decades, I have personally witnessed how Hong Kong has developed from a small fishing harbour to today's metropolitan city. All that I saw or experienced is deeply imbedded in my mind, and I can say I have grown at the same pace as Hong Kong." He continued, "This recent attack of SARS, that took away the lives of nearly 300 people, made me very sad. However, when I saw how Hong Kong people joined hand-in-hand, and how the nursing staff sacrificed their lives in their effort to save the patients, I was moved by their spirit, and that made me feel proud to be a Hong Kong belonger." and continued: "As I have lived in Hong Kong for many decades, my heart has been bound together with this city, and I hope I can contribute a little effort at this time in support of the anti-SARS research work."
During the 100-odd days of Hong Kong's battle against SARS, Mr. Lim kept watching newspapers,TV and radio news to monitor developments. Mr. Lim donated HK$3,650,000 of which $500,000 provided the mouth-masks for all front-line nursing staff, $500,000 were to the Hong Kong Red Cross Society in support of the "gift of free anti-infection packets", $100,000 to the Hong Kong Neighbourhood Society's anti-infection campaign, $500,000 to the St. Margaret Hospital Charity Fund and the Kwai Chung/Tsing Yi District Health and Safety Association for purchase of anti-infection equipment, $250,000 to the Industrial/Commercial Sector Fund for Care of SARS Patients, and $500,000 to the Child Care Educational Fund to help children who lost their parents during the SARS attack. He also donated $200,000 to support the electronic news-media's call for support of "one person one doctor". After that, he donated $1,000,000 to the Community Chest of Hong Kong, and sponsored $100,000 in support of the "Join together Walk Against SARS". Mr. Lim also donated more than $13 million in Shanghai, Guangzhou and Shantou in support of anti-infection work.
Mr. Lim continually supported educational development in Hong Kong. In gratitude to Munsang College where he had himself been a pupil, he donated about HK$4,600,000 to his Alma Mater. In 1982, Mr. Lim sponsored HK$1,000,000 towards the construction of the Yan Chai Hospital Lim Por-yen Secondary School in Tsuen Wan. At the same time, he donated HK$600,000 to sponsor the "Inauguration Ceremony of Yan Chai Hospital's 32nd Board of Directors" and the Hospital's "Youth Cantonese Opera Promotion Festival".
Since the inauguration of the "Healthy Hong Kong Foundation" in 1977, its "Lifetime Express" has gained wide public support. As one of the Foundation's Trustees, Mr. Lim made generous donations many times, totaling some HK$10 million. On a number of occasions, he himself went with the team to carry out on-the-spot inspections in the affected areas. He donated HK$3,000,000 to support the Hong Kong Arts Centre. To express its gratitude, The Hong Kong Arts Centre named its cinema house the "Lim Por-yen Cinema House".
In 2003, Mr. Lim donated HK$10 million to the Hong Kong Polytechnic University for use as an education fund. He also donated HK$10 million to the Hong Kong University to establish a foundation fund for the "Lim Por-yen Seminar" and another HK$10 million to support the Hong Kong Chinese University's ophthalmic study and research. When China's first astronaut visited Hong Kong, Mr. Lim donated HK$1,000,000 to the Community Chest as a sign of his support.
Mr. Lim was earnest in providing for the welfare and education of his countrymen in the Mainland. According to incomplete statistics, he donated a total of $300 million to the Shantou International Conference & Exhibition Center, the Shantou Lim Por-yen Secondary School, the Shantou Lim Por-yen Polytechnic School, the Chaoyang Lim Por-yen Secondary School, and the Chaoyang Lim U Po-chu School. He donated $8,000,000 to set up a fund to award the teachers and students and $4,000,000 to build the Lim Por-yen Library in the city of Shantou. In 2002, the head officials of Shantou accompanied him to Chaoyang to see the water-supply condition. He personally tasted the water from a well. He decided to donate $5,000,000 to help Chaoyang to improve the quality of the water supply.
Later, Mr. Lim Por-yen extended his charity work in China, including Beijing, Shanghai, Guangzhou and Zhongshan, by donating over RMB200 million. Of this figure, over RMB100 million were for the building of Sun Yat-Sen Memorial Hospital in Guangzhou.
Why was Mr. Lim Por-yen so deeply concerned for community affairs? He once told news reporters in a personal interview about his feelings, "Time flies like an arrow and people's life can be rather short. That's why we should do more good things for our nation and the public, and keep on doing it. Back in my home-town, I never made any investment, nor earned any profit. Money that I made from outside should be donated to help those in need back home." He also said, "Anyone who wants to live fully should always be deeply concerned with the public's difficulties, and that will bring him a much fuller life."